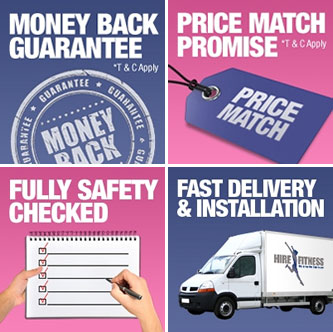 Hire Fitness, Dublin Office
The capital of the Republic of Ireland, Dublin is the largest city in Ireland, located to the east and overlooking Dublin Bay. The average visitor in Dublin can typically find an abundance of picturesque environment, including rolling mountains, stunning seaside villages and rural hinterland, all just a short distance away from the centre of the city. The city of Dublin also has a varied and rich history, from the Viking invasion in the eighth century, through to Norman occupation, the English rule, and the formation of the Republic of Ireland in the 1900s. Dublin is also the capital of The Craic, and famous for its cultural heritage and gentle, easy-going charm. Home to a variety of famous names and faces, including Jonathan Swift, Samuel Beckett, James Joyce and Oscar Wilde, the city is steeped in culture.
Throughout the centuries, it is obvious that Dublin's unruly artistic streak, and the Craic have helped to shape the city's emergence into a stunning, and vibrant location, beautiful and consistently easy-going. However, just because Dublin is laid-back, doesn't mean that its residents have to be, especially in regards to their health. Of course, there's something to be said for rest and relaxation, but the benefits of leisure quickly turn into problems when they replace something even more vital: exercise.
The Importance of Exercise
Capable of reducing your risk for various major illnesses, including diabetes, heart disease, stroke and even cancer by up to 50% and lowering your risk of early death by as much as 30%, exercise is free, easy and capable of providing immediate benefits. To many doctors and health professionals, exercise is the miracle cure that we have always had, and yet many people still continue to neglect it, refusing to take their allocated dose or arguing against its proven advantages. Regardless of age, there has been strong scientific evidence that engaging in regular physical activity can not only help individuals to live a healthier lifestyle, but also a happier and longer one too. People who engage in regular exercise have a lower risk of suffering from various serious diseases, and the process of physical activity can also do wonders for boosting sleep quality, improving energy levels, as well as reducing your risk of depression and stress and lowering your chances of Alzheimer's and dementia.
Since there's such an abundance of overwhelming evidence to attest to the benefits of exercise, it seems obvious that everyone should do their best to be physically active, especially if they want to live a fulfilling and healthy life, well into the realm of old age. People who engage in regular physical exercise have been proven to have:
Up to 35% less chance of stroke or heart disease
Up to 50% less chance of diabetes (Type 2)
Up to 30% less chance of depression and dementia
Up to 50% less chance of colon cancer
Up to 83% less chance of osteoarthritis
Up to 30% less chance of falls amongst older people, and 68% less chance of hip fractures
The Different Types of Exercise
One of the most popular types of exercise equipment, whether at home or at the gym, is the treadmill, which often provides the most straightforward and efficient kind of aerobic workout. For many beginners, treadmills provide a good start to a new exercise routine, because they can begin by walking, and this is an exercise tolerated by most individuals regardless of their joint conditions of fitness level. As endurance and strength continue to be developed, however, the treadmill can then be used for interval training, jogging and running. On the other hand, a rowing machine can also help to tone and build up muscles, increase stamina and boost cardiovascular function. However, rowing machines are typically more difficult to use, and less suitable for beginners. Rowing burns calories on a rapid basis, which can be fantastic if you are hoping to lose some weight as part of your exercise routine. For example, a vigorous workout using a rowing machine can burn nearly four hundred calories in approximately thirty minutes. Furthermore, the aerobic exercise provided helps to improve the circulation system, as well as lung and heart function.
Typically, when you are choosing the exercise machine that is right for you, you will notice that the more muscles you use, the more calories you will burn. However, if you are a beginner, the more muscles you use will also mean that you'll end up getting tired out more quickly, resulting in the burning of fewer calories. If you're not used to exercising, it may be a good idea to work less muscle groups initially, by using, for example, a treadmill, before working up to a rowing machine once your endurance has been strengthened.
Why Hiring is better than Buying
So if you've decided on the kind of machine that might be right for you, why should you choose to hire the equipment instead of buying it outright? First of all, hiring means that you have the opportunity to vary your exercise as much as you like. Of course, the same result could be achieved by going to the gym in some cases, but there are some people who have no desire to set foot in a fitness centre or use a gym, simply because it means more effort, more money and more judgment from the people around them. When hiring your own fitness equipment, you can explore your body's limitations within the comfort of your own home.
If you discover that you love using the elliptical machine, then that's fine, but don't allow yourself to get bored, swap and change between different tools if you feel as though you are getting into a rut. One of the main advantages of hiring machines instead of buying them is that you will never be left with obsolete equipment cluttering up your house. There are always new advancements when it comes to fitness and exercise, meaning that you will be able to upgrade your equipment as you progress, ensuring that you always receive the best possible workout.