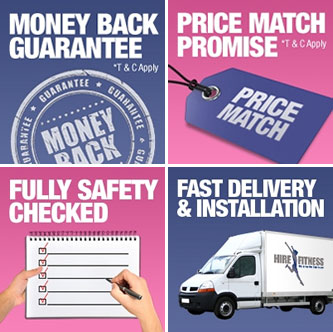 Hire Fitness, Ireland, Cork Office
The third-largest city in Ireland began its life as an island, before eventually spanning both banks of the river Lee, with channels that run beneath some of its main thoroughfares. Founded by 'St Finbarr' at least one thousand years ago, Cork has grown from a simple tradition city to a stunning and vibrant cosmopolitan wonder today. Situated on the banks of the river Lee, Cork is home to over 123,000 people, and covers an area of 3,731 hectares. Those who live in Cork generally regard the quality of life there to be excellent, enhanced by the beauty of its physical environment, through fantastic tourist attractions, various recreational, and sports facilities, cultural and heritage attractions, as well as parks, lakes and rivers.
Encouraging a Healthy Lifestyle
As beautiful as Cork is, it does suffer somewhat when it comes to climate. Over the course of the year, the temperature in this region typically ranges between three and 18 degrees Celsius. The season identified as 'the warm season' lasts between June and September, with the hottest day of the year usually peaking at around 18oC. The cold season, on the other hand, lands from Mid-November to the end of March, with temperatures hitting their highest at around 10oC. Cork, Ireland, typically spends over 90% of the year within the 'cold' band of temperature. The issue with this is that it often means most people are less tempted to go outside and exercise. When the weather outside is uncomfortable and cold, many of us simply want to stay indoors where our radiators and fireplaces can keep us warm. This is why hiring fitness equipment, instead of relying on a gym membership to lose weight, could be the ideal solution for residents of Cork who are looking to lose weight, improve their health, and stay cosy in the comfort of their own home. But where do you start when it comes to fitness equipment?
Choosing the Right Machine for You
Deciding to make that all-important effort in getting fit and improving your quality of life is a wonderful and essential step forward for many people. However, problems arise when they realise that they really don't know which machine to hire in order to achieve the best results. With that in mind, here is some information regarding the most common machines that people often choose to use and hire when losing weight and improving their physical health.
This machine is usually the one that even the most inexperienced individual can pick out from a line-up with little trouble. Capable of burning the most calories out of any other cardiovascular machine available within a gym, walking briskly on a treadmill can burn up to 100 calories per mile. However, this machine may not be the ideal choice for someone who is excessively overweight or suffers from joint pain. They can also pose a challenge for individuals who are new to exercise or haven't worked out in a while, as it takes some time to perfect your own balance.
These machines can be a little less harsh on the joints, and can be a good alternative to treadmills for this reason. Because they are used while standing, a lot of muscle mass is used, meaning that the burn rate for calories remains relatively high.
Much of the time, beginners allow themselves to be fooled into thinking that rowing machines are only useful for working out the top portion of their body. This is actually not the case. Rowing machines are advanced cardiovascular tools, and because you often push with your legs whilst pulling with your arms, they require coordination from various parts of the body. Rowing machines use various muscle groups, leading to a massive calorie burn, however this machine can raise some red flags for a beginner, as extra weight and effort can come with some pain.
Working Out the Smart Way
Experts suggest that the first step in a successful workout is choosing a machine that feels right. If impact on your joints is a significant problem, for example, then a treadmill may not be the ideal choice for you, and if you have limitations with your lower back, then a rowing machine may cause you some additional pain that prevents you from making the most out of your exercise routine. Usually, the best option is to select the machine that you believe is right for you and try it out for a while. When you hire a piece of gym equipment, you can give that machine a test-run for a period of a month and see how it works out, then exchange it for something else if you feel it doesn't fit right with you.
Working out is an important part of living a healthy life, and more people are starting to recognise the impact that good physical health can have on their quality of life in general. Training from your own home can be the ideal way to take advantage of all the benefits that good physical fitness can offer you, without having to worry about the excess costs and concerns of visiting the gym on a daily basis. Hiring your own fitness equipment means that it's there and on hand whenever you need it, and often reduces your initial costs in comparison to buying the machines straight out. With hiring, you can avoid:
Costly gym membership
The costs of extra fuel, driving to and from health centres
The excuse of bad weather preventing your workout
The extra fatigue of working a gym-visit into your daily routine
The discomfort of dealing with other people at the gym when you're starting out
One of the great things about hiring instead of purchasing is that it gives you the ability to mix your exercise routine up a little. Even if you truly love one particular machine, adapting, changing, and avoiding boredom can be a great way to make sure that you continue to stay in shape. With hiring, you can have one machine one month, and a completely different one the next, without the hassle or extreme costs. This means that you can challenge your body in new ways as you grow stronger, and more comfortable with different forms of exercise, allowing yourself the variety that leads to a healthier, fitter body.